Lindt Successfully Protects Its Bunny Design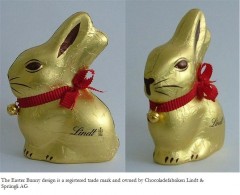 A Vienna court has decided that Hauswirth company must stop manufacturing its own chocolate Easter bunny design which is wrapped in gold foil as it is too similar to the Lindt Easter chocolate bunny that first went into production in 1952.

Lindt registered its chocolate Easter bunny design in the European Community in 2000 and the legal battle against Hauswirth company began in 2004. The Vienna court agreed with Lindt that the chocolate bunny designs are so similar that consumers may be confused into thinking that both designs originate from the same company when in fact they are in competition with one another. The Vienna court dismissed arguments made by Hauswirth company that Lindt was simply using its trade mark to crush competition.